With four children, there have been many Christmas nights that I've been up, rocking or feeding a baby. These quiet moments always give me a chance to reflect on the night Jesus was born.
What was Mary thinking and feeling as she held Him in her arms?
Luke 2:20 (NIV) tells us:
"But Mary treasured up all of these things and pondered them in her heart."
What was she pondering?
Was she scared? Excited? Curious?
Wouldn't it be nice if she told us what she was thinking and learning? (I hope to get to talk to her about it one day in heaven!)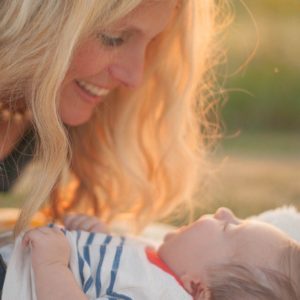 I stare into my son's face and wonder who he will become. Did Mary know who Jesus would become? Was she overwhelmed at the thought that God had entrusted her to raise His Son!? Did she know that He was a child who would bring Hope and Peace for all eternity? Was she afraid she might do something wrong?
As I hold my little one in my arms, I'm also pondering many things. Though I didn't give birth to Jesus, I am raising a child of God! I'm raising a child who has the potential to bring hope to a hurting world. I'm raising a child who can bring the Good News to others!
What if I mess up?
Do I have what it takes?
I stop and remember that God chose this child for me, at this time.
Deuteronomy 31:6:
"Be strong and courageous. Do not be afraid or terrified because of them, for the Lord your God goes with you; he will never leave you nor forsake you."
Wow, just bask in those words for a minute. We don't need to fear. He NEVER leaves us. He is always with us!
So what are some things we can do to invest in and mold these young lives so that they become followers of Christ and make a positive difference in this world?
First of all … ask for God's help every single day! Ask Him for wisdom because James 1:5 tells us:
"If any of you lacks wisdom, you should ask God, who gives generously to all without finding fault, and it will be given to you."
Here are some other suggestions for raising young men and women of God:
Lead by example. Spend time reading God's word and praying.
Stay present. Look at your children in the eye and answer their questions.
SMILE and remind them that they are LOVED – by you and by God!
Say 'I'm sorry' when you mess up. (We all mess up!)
Talk about the Goodness of God – sharing stories of what He has done in your life and the lives of others. Deuteronomy 6:7 – "Talk about them when you sit at home and when you walk along the road, when you lie down and when you get up."
Pray together – for their "owies," for their friends, and their concerns.
Sing and/or read together.
Practice 'self-care' so that you aren't running on fumes.
Love their Daddy and invest in your relationship. If you are divorced, refrain from speaking negatively about their dad.
Do we have to do ALL of these things every day? No.
I think the most important thing we can do is ask God for help. Ask the Holy Spirit to lead you as you lead your children.
If you feel like there is something you can tweak to become the best mama to your children, do it.
Each day is new day!
Each day is a new opportunity to ask God for help. A new day to stay present in your children's lives. Another opportunity to watch for what God is already doing in your child's heart and life to encourage and support that!
Let's look into our children's eyes and remind them that God loves them and has GREAT plans for their future – He really does!!!
For I know the plans I have for you," declares the Lord, "plans to prosper you and not to harm you, plans to give you hope and a future.
Merry Christmas friends,
Kathryn Egly
Latest posts by Kathryn Egly
(see all)